COREtec Luxury Vinyl Tile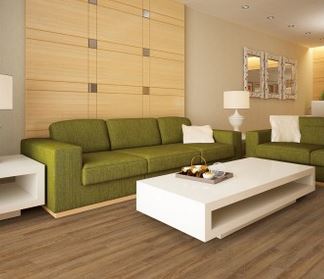 US Floors COREtec Plus is an evolution in luxury vinyl flooring. Being an entirely new category of flooring called Engineered Vinyl Plank flooring or, EVP for short, these planks and tiles are by far the most durable on the market today. These planks are constructed with the same materials other luxury vinyl planks are, but feature a waterproof inert core. This patent-pending Hydracore, which is constructed of recycled wood, bamboo dust, limestone and virgin PVC, is so waterproof that it can be submerged underwater for months and never swell. And since these vinyl tiles are inert, meaning they will not expand or contract, the need for expansion strips around your room is totally eliminated. COREtec also features a cork underlayment, making it softer, quieter and warmer than standard wood flooring and is backed by a lifetime warranty.
Long Lasting Durability

USFloors COREtec Plus vinyl planks and tiles have been built with long lasting durability in mind. These engineered vinyl planks have been designed for both commercial and residential use and are perfect for living rooms, kitchens, dining rooms, basements, laundry rooms, bathrooms, bedrooms, playrooms, family rooms, dens, garages, offices and many other areas of your home or business.